By Dave DeWitt
Now that it's peak season for fresh chiles, you can find both green and red pods ready for rellenos. Simply put, chiles rellenos are chile pods (typically New Mexican or poblano) that have been roasted and peeled, split open, and stuffed with sweet or savory fillings, then cooked. Jalapeños and other chiles are used as well. Many cultures all over the globe have their own versions of stuffed peppers. Here are some of our favorite rellenos recipes—including a "classic" treatment and variations on the theme. Basically you're only limited by your imagination when it comes to crafting your own chiles rellenos creation.
Classic New Mexican Chiles Rellenos
This is a recipe I've used for years and years and it always works and is always wonderful. Traditionally these are prepared with cheese fillings, but a cooked meat mixture, or a combination of meat, dried fruits and nuts also works well.
4 large or 8 small, New Mexican green chiles, roasted peeled and seeded, with the stems on
1/3 to ½ pound cheddar or Monterey Jack cheese, cut into sticks
All-purpose flour
3 eggs
3 tablespoons flour
1 tablespoon water
1/4 teaspoon salt
Vegetable oil for frying
1 recipe green chile sauce (see following recipe)
Make a slit in the side of each chile and carefully stuff it with the cheese sticks. If the chiles tear, secure them with a toothpick. Just be sure to remove it before serving the chile.
Place some of the flour on a plate and roll each of the chiles in the flour until it's fairly evenly covered. Shake off the excess flour.
Separate the eggs, putting the whites in a large bowl and the yolks in a small one. Whisk the egg yolks with the flour, water, and salt until they're thick and creamy.
Whip the egg whites until they form soft peaks.
Pour the oil in a saute pan to a depth of 1 ½ to 2 inches, or until it looks like it would reach a little more than halfway up the side of the chiles. Heat the oil to 350 to 375 degrees or until a little of the batter quickly browns when dropped in the oil, about 20 seconds.
Quickly and gently fold the yolks into the whites so that the mixture is an even color but the whites are not broken down. Dip the chiles in the batter, covering them completely and removing any excess.
Slide the chiles, one or two at a time, into the hot oil. As they are browning on one side, carefully spoon some of the hot oil over the top to assist in setting the batter. When they're browned, gently turn them over and brown the other side, turning only once. Remove them from the oil and drain on a paper towel.
To serve, place the rellenos on a plate and top with some of the green chile sauce. Serve immediately.
Yield: 4 servings
Heat Scale: Medium to hot, depending on the pods you use.
Green Chile Sauce for Rellenos
This is another classic all-purpose sauce that is basic to the cuisine of New Mexico. It has its roots in the southern part of the state where the bulk of the green chile is grown. This is a lightly flavored sauce with a pungency that ranges from medium to wild depending on the heat of the chiles.
1 small onion, chopped
1 garlic clove, minced
1 tablespoon vegetable oil
1 to 1 ½ cups chopped green New Mexico chile, roasted and peeled
1 small tomato, peeled and chopped
2 to 3 cups chicken broth
1/4 teaspoon ground cumin
2 tablespoons cornstarch mixed with 3 tablespoons water
Heat the oil in a saucepan over medium heat and saute the onion and garlic until soft.
Add the chile, tomato, broth, and cumin. Bring to a boil, reduce the heat and simmer the sauce for 10 minutes. Stir in the cornstarch mixture and continue to simmer for an additional 5 to 10 minutes to thicken.
Adjust the seasonings and serve.
Makes: 2 to 2 1/2 cups
Heat Scale: Medium to hot, depending on the peppers you use
Chiles Rellenos Stuffed with Corn
This approach to chiles rellenos utilizes another wonderful New World food—corn. Serve these covered with the green chile sauce recipe above.
2 tablespoons butter
1 medium onion, chopped
2 cloves garlic, minced
1 1/2 cups cooked whole kernel corn
1 teaspoon dried oregano
1/3 cup sour cream
6 ounces cheddar cheese, cubed
6 green New Mexican chiles, roasted and peeled, stems left on
Flour for dredging
3 eggs, separated
1 tablespoon water
3 tablespoons flour
1/4 teaspoon salt
Vegetable oil for frying
Green Chile Sauce (see recipe above)
In a skillet, heat the butter and saute the onion and garlic until soft. Add the corn and oregano and cook for an additional 5 minutes. Remove from the heat and stir in the sour cream and cheese.
Make a slit in the side of each chile and stuff with the corn mixture. Dredge the chiles in the flour and shake off any excess.
Beat the egg whites until they form stiff peaks. Beat the yolks with the water, the tablespoon of flour, and the salt. Fold the yolks into the whites and stir gently.
Dip the chiles in the egg batter and fry one at a time in 1 to 2 inches of oil until they are golden brown.
Serves: 6
Heat Scale: Medium to hot, depending on the peppers you use
Greek Stuffed Peppers
Piperies Gemistes me Feta may be Greek to you and me, but to a Greek, it means "Greek Peppers Stuffed with Feta." Because they're broiled, not battered and fried, these stuffed peppers are somewhat healthier than traditional chiles rellenos.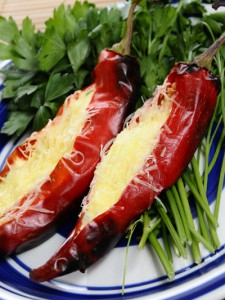 6 fresh New Mexican red chiles, unpeeled, cut open along one side to remove the seeds
9 ounces feta cheese, crumbled
2 tablespoons extra-virgin olive oil
2 tablespoons Greek yogurt
1 tablespoon minced Italian parsley
1⁄2 teaspoon lemon zest
1⁄4 teaspoon dried oregano
2 egg yolks
Sea salt and freshly ground black pepper, to taste
1⁄4 cup grated Parmesan cheese
Arrange a rack 6 inches from the broiler element and set your oven to broil. Put the peppers on a baking sheet and broil, turning once, until just soft, about 5 minutes. Transfer peppers to a rack and let cool.
In a large bowl, use a hand mixer to whip the feta, oil, yogurt, parsley, zest, oregano, and egg yolks; season with salt and pepper. Make a lengthwise cut from the stem to the tip of each pepper and stuff each pepper with some of the feta filling; transfer to an aluminum foil-lined baking sheet and chill for 30 minutes in the refrigerator.  Sprinkle the peppers with grated Parmesan cheese and broil them until cheese is golden brown and bubbly, about 6 minutes. Transfer the peppers to a platter and serve hot.
Yield:  6 servings
Heat Scale: Medium
Crab-Stuffed Chiles
(Chiles Rellenos de Jaiba)
The use of chipotle chiles in this recipe from Sinaloa adds a smoky depth of taste to the crab. We recommend the meat from freshly cooked crab legs, but if they are unavailable, good quality canned crab meat can be substituted. But, nothing beats the fresh crab!

4 tomatoes, roasted and peeled and chopped
1 cup chopped onion
1/2 cup chicken broth
1/2 cup water
3 chipotle chiles in adobo sauce, diced
1/2 teaspoon salt
1/4 teaspoon freshly ground black pepper
8 green chiles (poblanos or New Mexican), roasted, peeled, seeds removed
2 cups cooked, shredded crab
1/2 cup minced onion
1 teaspoon dried Mexican oregano or 2 teaspoons fresh, minced
2 tomatoes, peeled, deseeded, and chopped
2 to 3 tablespoons chicken broth
1/2 cup flour
3 stiffly beaten egg whites
1 1/2 cups corn oil
For the warm salsa topping: put the tomatoes, 1 cup chopped onion, chicken broth, water, chipotle chiles, salt, and pepper in a small saucepan. Bring the mixture to a boil, then lower the heat to a simmer and allow the mixture to simmer while you stuff the chiles.

In a small bowl, mix together the crab, onion, oregano, and tomatoes. If the mixture seems dry, add 1 tablespoon of the chicken stock at a time. Stuff the chiles with this mixture.
Dredge the stuffed chiles in the flour, dip them into the egg whites and then deep fry them in the oil for 2 minutes per side, or until golden brown. Drain them on paper towels.
Arrange the rellenos on a warm dinner plate and top with the warm salsa.
Serves: 4
Heat Scale: Medium
Chiles Poblanos Stuffed with Coconut
Here is a dessert relleno from Mexico City's celebrity chef and author Ricardo Muñoz Zurita. Please note that this recipe requires advance preparation.
8 fresh poblano chiles, seeded, de-veined, roasted, and peeled
1 quart water
3 cups sugar
1 teaspoon vanilla extract
1 quart water
3 cups sugar
1 teaspoon vanilla extract
2 cups freshly grated coconut
6 medium dried apricots, cut into thin strips for garnish
Prepare the chiles and make sure they have been washed properly. Let them rest for 15 minutes in plenty of ice cold water with a little salt. Drain the chiles.
Boil the water with the sugar until a syrup is obtained, remove from the flame and add the vanilla extract. Let cool.
Submerge the chiles in the syrup overnight, drain them and submerge them again, leaving the chiles for another 2 hours in the syrup. Repeat this once more until the poblanos are caramelized and sweet. Discard the remaining syrup.
Make fresh syrup by bringing the water to a boil with the sugar and boiling for 5 minutes. Remove from stove, add vanilla extract and let cool. Generously stuff the chiles with the fresh coconut, using only the white part of the coconut. Spoon a teaspoon of the syrup over each of the chiles and serve at room temperature with thin strips of dried apricots for garnish.
Serves: 8
Heat Scale: Mild